Our ethics
Here is the summary of our Responsible Travel Policy
We are fully committed to the ethics of responsible travel and sustainable tourism. We are aware of the impact our stay has on the local people and the environment and do our best to ensure that this impact is positive. Our holidays are designed with the well-being of both the traveller and the host in mind. We travel in small groups to minimize the impact on the environment and to facilitate the exchange with the local people.
We are also members of responsibletravel.com where our tours are featured.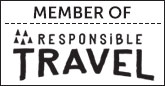 Our mission
Typically for a developing country, Serbia has been experiencing strong population decline in rural areas. Rural exodus has been continuously aggravated by decades of economic and political turmoil. As a consequence, young people are leaving the countryside in search of a better life. Sadly, for many this search will end with long-term unemployment or low-paid work in the cities. The abandoned rural communities remain as a nostalgic reminder of wasted opportunities.
Our mission is to bring visitors to rural areas and help provide the much needed income to local communities. We hope that the income they make from our stay will represent a strong incentive for young people to stay or return to rural areas. We also hope that this initiative may attract young families to start a new life in the countryside.
We believe that introducing the concept of responsible tourism in rural communities in Serbia may help reduce depopulation of rural areas and provide an opportunity for young people to fully realize their creative potential.
Our promise to people travelling with us
We will provide for you:
comfortable accommodation, in restored original houses whenever possible
delicious, organic, locally sourced food
a chance to be active outdoors and enjoy nature
an opportunity to learn new skills
an opportunity connect with local people
an opportunity learn about local culture, language and traditions
Our promise to people, communities and places we visit
We will do our best to minimize the negative impact on environment by:
choosing locally produced and organic ingredients whenever possible
choosing suppliers who practice "reuse, reduce and recycle" policy,
appropriately disposing of our own waste,
choosing to walk, cycle and use public transport whenever possible,
respecting the rules of conduct in protected areas and wildlife.
We will make all the effort to positively contribute to the local economy by:
paying fair wages,
supporting local craft makers and artisans,
supporting local farmers,
choosing to stay in small and family owned accommodation,
using local guides, arts and crafts teachers and other professionals.